Maths Challenge morning
Mrs Ibbotson asked the children some questions about their morning.
'Which activity did you enjoy the most?' All the children said the water as it was so much fun.
'What maths did you use today?' the children remembered measuring.
'What do you measure length in?' Meters and Centimeters.
'How do we measure time?' In hours and minutes, was the reply.
A great morning enjoyed by children, parents and staff. Children in KS2 were given 6 different challenges all based on measurement - estimating height, and weight, measuring perimeter and area, measuring capacity and using scrap paper to build the tallest structure they could. For the most part the children were out in our lovely school grounds making the best of the environment.
Parents having Maths lessons
During the week of the 16th-20th March, many of our parents joined their children for our 'open house' maths week. They were joined by several governors all of whom had to pick up a pencil and be part of the maths lesson.
Our aim was to further engage our parents in their children's learning and help them to develop an understanding of the style, method and techniques we currently use. Some parents were surprised by how much is expected of our children and some were surprised to find that their child worked faster than they did!
As a school we are very grateful for the support shown during the week, many many thanks. We hope parents and governors found it a valuable experience. Any parent who would like to leave feedback about the week, please do so here.
Nerissa Gallagher
Maths Leader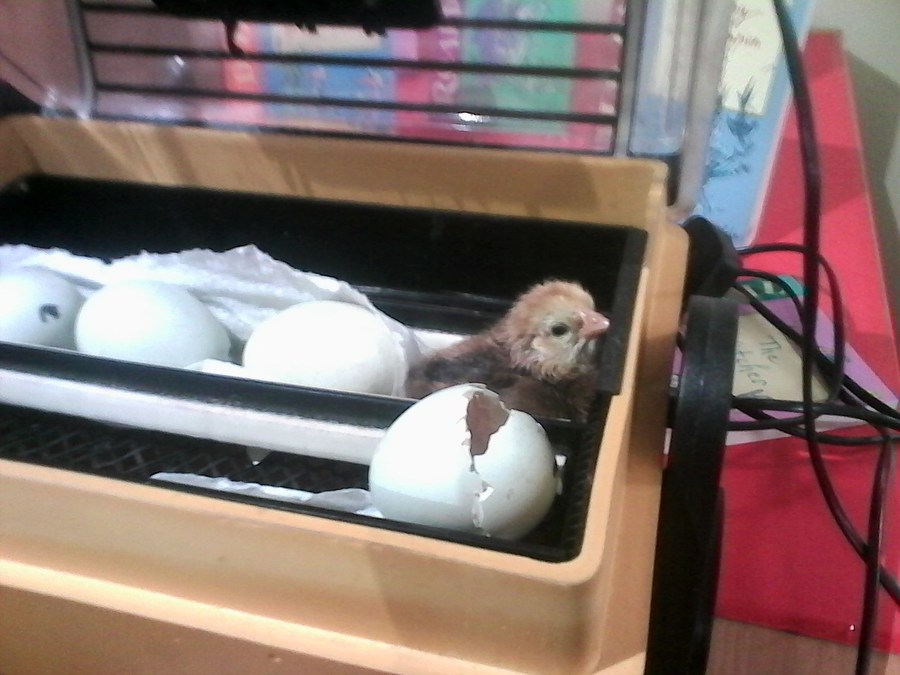 12th September 2014
What a morning this was! We were in the middle of a fabulous maths lesson when someone burst in shouting "Come quick, it's hatching!" Completely stunned we all zipped to the other classroom to discover everyone gathered around an incubator chattering to friends and squealing with excitement. We couldn't tell what was in there at first, but we soon found out. As we peered over the crowd we saw an egg with several holes in it and a tuft of fur sticking out! A small chick was hatching!
Everyone was fighting just to catch even the smallest glimpse of the tiny creature in that egg!
July 2014
After their success at the Harrogate Flower Show, Sam and William are delighted to announce that the harvesting of the vegetables outside the KS2 classroom has begun. Radish anyone...?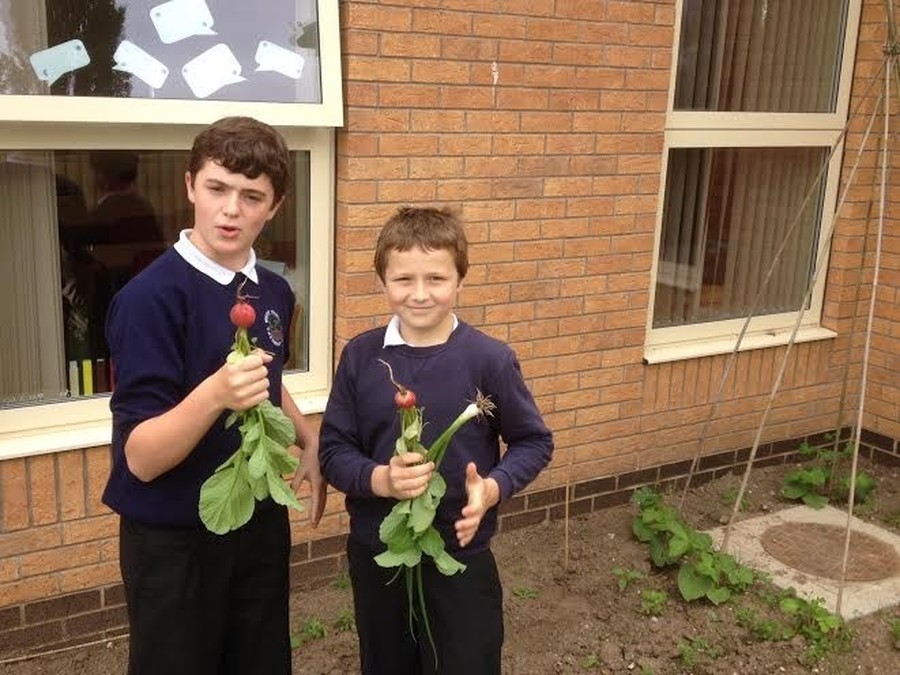 What a great trip!
The KS2 children have been to the Vue Cinema in Scunthorpe to watch a screening of 'Vikings Live'
It was filmed in the British Museum and we got to see lots of artefacts that we wouldn't have otherwise had the opportunity to learn about. We all learned lots about the Vikings including how they lived and how they fought. We loved the bit about something we do every day.... Ask your children about it, I'm sure they will fill you in!
I am very pleased and proud to be able to say that every one of our children behaved wonderfully throughout the morning. A big thanks must go to Mrs Dennis (Governor) for accompanying us on the trip and also to our wonderful PTA for a donation that subsidised the cost of the trip.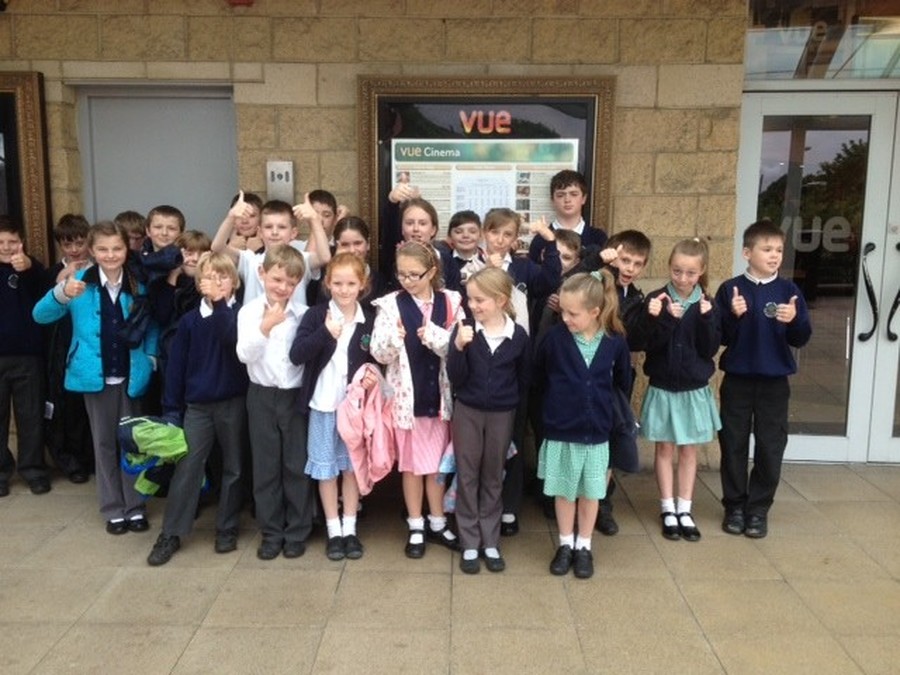 Guestbook/Parent Comments
Comments (22)
Show Comments
Annie
(a few years ago)
On Monday, we went to Copthorne Primary School.It is a much bigger school to Wroot. We had all been given a pen-pal to write to and to keep in touch with.There were so many pupils that there had to be two classes for each year. After that we had lunch,There where three choices when we only have two! It was all very yummy! Most of the pupils were Muslims so we learnt about R.E as well as a good trip.Actually the Headteacher Mrs.Shepherd, just happened to be Mrs Gallagher's sister! We had lots of fun and we hope that Copthorne will one day come and visit us.
Lauren
(a few years ago)
I really enjoyed the history workshop as it was fun and interesting, especially the dressing up, as we had to guess what age our costumes were (Stone age, Bronze Age and Iron Age). Lois was our instructor, she was fun! I learnt masses of things that I didn't know, for example; that there is a Stone Age and an Iron Age and that the Stone Age people crushed flowers to draw pictures on the cave walls.
Tiggy
(a few years ago)
It was very good. We got to touch lots of real artefacts. I hope we can do it again
Max
(a few years ago)
I really liked when we did the prehistory workshop. We had to scrape fake poo, and find different things that they ate, We dressed up and held artefacts that they brought in.
Cameron
(a few years ago)
It was amazing, because we learnt a lot from the two adults who came.
RUBY
(a few years ago)
I REALLY LIKE THE STONE AGE WORK SHOP. THEY HAD A LOT OF TOOLS AND SOME TOOLS WERE THOUSANDS OF YEARS OLD. WE DRESSED UP AS THE STONE AGE PEOPLE AND IT WAS AMAZING
Madeleine
(a few years ago)
The histrory work shop was very intresting. I leared lots of stuff I did not know. I did not know there was a bronze age!
Elliott Bentham
(a few years ago)
The history workshop was brilliant and I hope we can do it again because we got to feel and learn about objects from prehistory.
Oliver
(a few years ago)
I liked the stone age history yesterday we did three activities one was finding which category the artefacts went in. I really want to do it again. It was awesome.
Thomas
(a few years ago)
I think the pre-history work-shop was very interesting. We got to see and feel lots of real artefacts and copy`s of artefacts. We also got to dress up and see how the people washed in that period. It was overall a very good work-shop.
Show More Comments